Hi!I'mFabrizia:)
Cycling & Traveling in Style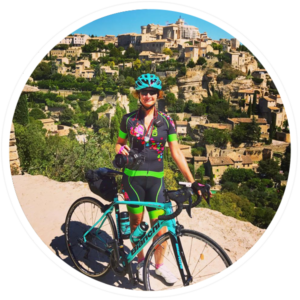 I'm a journalist and a photographer, a globetrotter by passion and profession and for twenty eight years I've been traveling the world, telling it in articles and photographic reportages on the most prestigious Italian and foreign magazines. I fell in love with cycling in 2015 when I had to give up running because of a foot injury caused by an overload of training for the New York Marathon. I had to switch to another endurance sport, therefore "discovered" the bike, which soon became my inseparable "happiness machine". Why am I so passionate about cycling? Because it makes me feel free! I love outdoor sports, but cycling allows me to travel long distances, too, and discover the world at the right pace: not too slow, not too fast. Cycling is also a very eco-friendly way of moving and I think we need to strongly promote sustainable mobility on this planet to reduce pollution and the effects of global warming.
In my articles and in my blog you'll find the cycling inspiration you're looking for: lots of emotions combined with a ton of useful information about how to plan amazing bike tours in Italy, Europe and the world.
Since I started cycling, I've pedaled in beautiful territories like Tuscany, Campania, Apulia, Trentino, South Tyrol and Marche Regions in Italy, Mallorca island (Spain), Corsica (France) and throughout amazing cities like the Big Apple, in the United States. I've also ridden some of the most beautiful and iconic climbs of the Giro d'Italia and the Tour de France, such as the Stelvio in the Italian Alps, the Gardena, the Sella and the Pordoi Passes in the Dolomites, the Mont Ventoux in Provence and the Alpe d'Huez in the Central French Western Alps.
Hop on the saddle and let me take you to beautiful destinations!
MORE ABOUT ME
I consider myself a restless neo-nomad and have lived in fascinating cities, such as Rio de Janeiro, Miami, Rome and New York, which I feel my homeland of choice. Interested in Buddhist philosophy and in those realities where traditional cultures are in danger of extinction, I've photographed and written about many countries in South East Asia.
I was born in Naples (Italy), and have always been fascinated by the idea of discovering and illustrating the world through words and pictures. I graduated in Portuguese and Brazilian Language and Literature at the Oriental University of Naples. After living for a while in Rio de Janeiro (Brazil), I came back to Italy, where I studied photography (in Rome) and started to contribute articles and photos to L'Europeo.  It was in this famous newsmagazine that I published a report about Sarno, the most polluted river in Europe, written and photographed in summer 1994, for which I won the "Bolsena Award for Environmental Photojournalism". In 2006 the Mexican Ministry of Tourism awarded me the "Lente de Plata" Award (Silver Lens) for my story about the historical haciendas in Yucatan published on Weekend & Viaggi magazine.
After spending several months in Miami (where I wrote many travel reports for Italian newspapers and magazines), I moved to Milan and continued to travel the world, working on assignment for most of the top publications in Italy* (please, see below).
As I previously said, I consider myself a "new-nomad", a globetrotter always curious about new challenges, new stories and new places. For many years I've traveled especially in those countries where people's traditional culture is in danger, threatened by "globalization" and new forms of "colonization".
I've always had a special passion for South East Asia, and a very deep interest and sensibility for Buddhism and Buddhist countries. Another focus of my journalistic work has been reporting on spas around the world that have revived the traditional holistic "ethnic" healing systems, such as the Curanderia Maya in Yucatan (Mexico) and Guatemala, the Ayurveda in India and Sri Lanka, the Berber herbal medicine in Morocco, the Canoe Medicine in French Polynesia, the Thai Traditional Massage in Thailand, the Balinese healing tradition in Indonesia and so on.
REPORTING & INTERPRETING THE WORLD
So far, my assignments have taken me through the deserts of North Africa and the savannah of South Africa, the outstanding natural landscapes of the South West USA and the remote islands of the Australian Great Barrier Reef, the pagodas of Myanmar and the souks of Morocco, the ancient cities of Yemen and the medieval pentapolis (five cities) of Algeria. I've written of and photographed the ethnic minorities of North Vietnam and the curanderos (traditional medicine men) of Guatemala, the school children of Pretoria's townships and the villagers of Palawan (Philippines), the Sri Lankan Buddhist worshippers and the young Sicilian fishermen of Linosa Island (Italy).
I visited the most luxurious wellness resorts of Bali and the top spas of Thailand, the Maldives, Malaysia, the Seychelles, Mauritius, just to name a few countries.
I reported about the maharaja palaces of Rajasthan (India), "tested" the most exclusive private islands of the Seychelles and the charming boutique hotels of the Amalfi Coast. But I've also also captured the "mood" of some of the coolest cities around the planet, like Cape Town, Marrakech, Sydney, San Francisco, Rio de Janeiro, Miami.
When I first put my foot in New York City, I fell in love with the Big Apple and decided to call it "home" for eight years. I've been deeply fascinated by the city that never sleeps, and have continuously gotten inspiration from this vibrant, cosmopolitan, diverse and exciting metropolis.
Now I'm back to live in my hometown, Naples (Italy), and I'm "all in" in my cycling and travel projects.
MY PHOTOGRAPHIC "PHILOSOPHY"
For me photography is all about personal interpretation, a brilliant idea, an outstanding light, an original angle, and should capture an 'emotion on the move'.  A good picture has to be able to tell a story, and to be an icon. It must return the emotion when it is viewed, whether it is a glamour 'luxury travel lifestyle' shot or an anthropological picture. Photography, therefore, is all about 'singing' with light.
I also agree with Ian Berry (the famous Magnum photographer):
"The great single picture is emotionally satisfying, whereas getting a good journalistic story is more about being a professional".
PUBLICATIONS *
So far, in more than twenty eight years, I've published hundreds of large features (texts & photos) in about sixty leading magazines in Italy and abroad, such as: Bell'Italia, Bell'Europa, In Viaggio, DOVE, Panorama Travel, Condé Nast Traveller (Italy Edition), Natural Style, Tu Style, Donna Moderna, Gentleman (Italy, Spain, Turkey, Estonia and Belgium Editions), Gulliver, Grazia, Gente Viaggi, Tuttoturismo, Ventiquattro-Il Sole 24ORE, Capital, Yacht Capital, Yachtsmen, Crociere (supplement to Yacht Capital), Yacht & Sail, Gioia, Anna, Elle (Italy, Belgium and Brazil Editions), Luna, Case & Country, Airone, Marie Claire (Italy and Greece Editions), corriereviaggi.it, D-La Repubblica delle Donne, I Viaggi del Sole, L'Espresso, l'Europeo, Epoca, Alisei, Weekend & Viaggi, Auto & Fuoristrada, Gente Motori, Atmosphere, Vie del Gusto, Casaviva, Casa Amica, AD-Architectural Digest (Italy edition), Cucina Italiana, Glamour (Italy edition), Aqva, Y&S, Il Giornale della Vela, Meridiani, Sailing & Travel.